30/6/2021
Where is your food from?.... China? California? Australia? Italy? or here in New Zealand… home sweet home…

?
Finding out where your food comes from is becoming more frustrating, unclear and tedious. "Packaged in New Zealand, made from local and imported ingredients" is the mantra of most food producers. Plus, we are frequently confronted by news programmes reporting caged pigs with stress-hormones that flow through the meat; caged hens with urine burn, living their short and miserable lives sitting upon one another, losing feathers due to high stress; overseas cow herds living indoors on grain feed only; fish tests revealing traces of plastic; mince looking fresh and bright red for long periods on the supermarket shelf, with the help of sulphites...

It is enough to make the staunchest city-slicker want to live the good life on a rural block or have us all yearning for the vegetable gardens that used to be positioned at the back of the quarter-acre section. I remember my Grandad's plentiful vegetable garden, bordered by citrus trees; I remember the delicious pea vines creeping proudly up the trellis at the back of my Granddad's garden; but most of all, I remember Grandma sending me out with the stainless-steel bowl to pick peas for dinner and I would deliver back more empty pods than full ones as I quality checked that they were fresh, delicious and sweet.

These days the yard is subdivided; there is another house where the vegetable garden once stood and peas come in frozen packets sitting amongst the corn, carrots , baby beans, cross cut beans and edamame beans in the supermarket freezer does make us question where our food now comes from.
Every week we get enquiries from customers wanting to know if what they are eating is from New Zealand. To be honest, around 90% of our ingredients are fresh from New Zealand and the remaining 10%? Well, we are a little unsure! This is because most of these items for example, Watties Asian Stir-Fry Vegetables says ''Packaged in New Zealand, made from local and imported ingredients".

So to be as clear as we can be here at Eat, here is a list of wher
e the food we use

comes from…
Lamb Shanks / Lamb R
oast: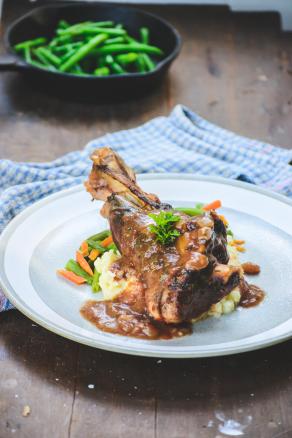 It should be no surprise to those of you that have tried our meals, to learn that our lamb is New Zealand lamb. It is the best! We can source cheaper Australian lamb, but we would call it mutton -the shanks look like they come from a cow… they are so big!
Beef: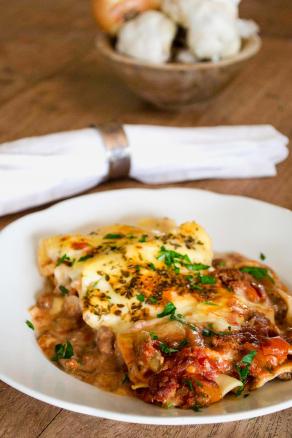 Nothing but New Zealand-raised-and-slaughtered beef. It is freshly-cut and minced-to-order, arriving with us a very deep red (no Sulphites here!). Our Shepherd's Pie and Lasagne are made with 95%vl premium steak mince. Our Rissoles, Meatloaf and Meatballs need a little more fat for moisture and taste, is 85%vl.
Chicken: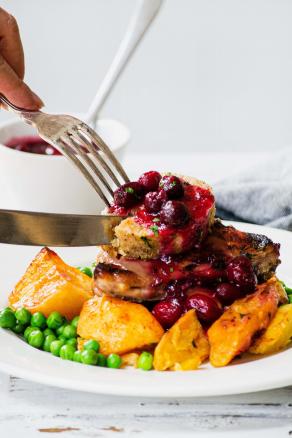 Cage-free or free-range chicken. We tried organic, but the haemoglobin levels in organic chicken made it difficult to cook out the blood from the bone – which had some customers worried about whether their chicken was raw… so we went back to free-range, grain-fed. We also went for boneless and skinless chicken, so no paying for bone and fat...and yes, we hand-roll our roast chicken with 50/50 breast and thigh, then baste heavily with butter, garlic and herbs to be moist and delicious!
Pork: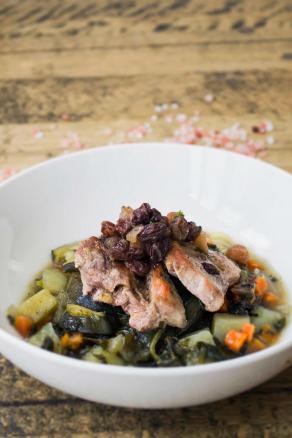 Our pork is New Zealand Pork and has the PIGCARE 'Born and raised for NZ standards' certified label.
Sausages: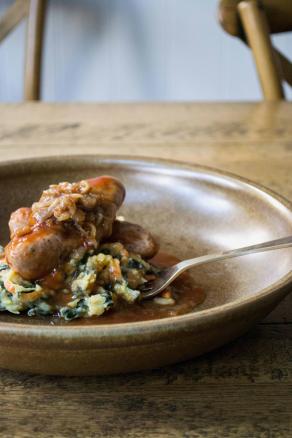 Made from NZ ingredients by our local award winning gourmet butchery Cameron Harrison.
Fish: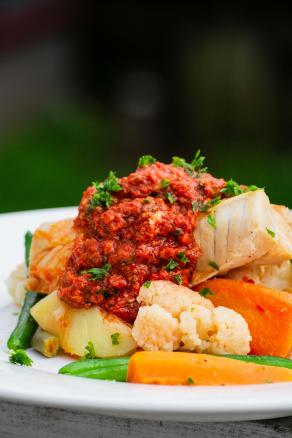 This is an interesting one… Hoki is caught in New Zealand waters, but is processed in both NZ and China. We used to get fresh hand filleted Warehou from the local trawler and it was awesome, but a few things made us convert to snap frozen Hoki fillets instead! Firstly a bad day on the vessel meant no fish or only half the fish ordered arrive. It was all hand filleted and therefore always had a few bones! We find that Hoki (wherever its processed) never arrives with bones to worry about … and this is a great relief to us. The Hoki also arrives perfectly-portioned, so there is no waste at our end – and it is still tasty NZ fish.
Fresh Vegetables: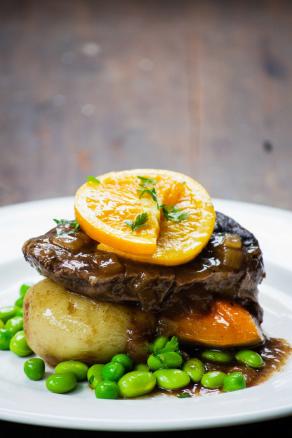 Most of the 1 tonne of vegetables we use weekly is NZ-grown, freshly-picked-and-processed (washed, peeled, cut and diced) in the Hawkes Bay, and delivered fresh everyday. We don't muck around with processing our own vegetables, simply because want the dirt or the risk of unwanted bugs in our kitchen! Also when a kitchen hand calls in sick… I do not want to be washing and peeling 100 kg of potatoes with my little peeler!
Frozen fruit & vegetables and canned fruit & vegetables: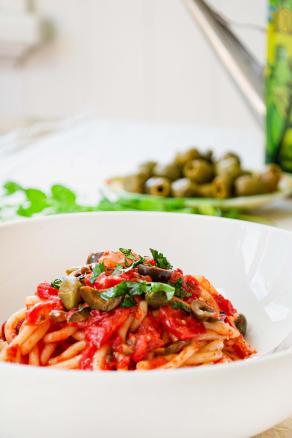 It is often not completely clear on the labels where theses come from; often it will just say "made in NZ from local and imported ingredients" or "blended and packed in Australia from local and imported ingredients" or "packed in China"(like the fish). Also, we will often not know this when we put in the order in with our wholesale distributor of these products, as they will source their products from many different places and may change their suppliers from time to time, Currently, one of our suppliers can't get tinned tomatoes… (damned Covid), so we have gone to another company that sources from Italy. We ensure, however, that all our distributors and suppliers are approved by and registered with the Ministry for Primary Industries - so they will be sourcing their products from places and in a way that complies with our NZ laws.
Fresh fruit and fresh herbs: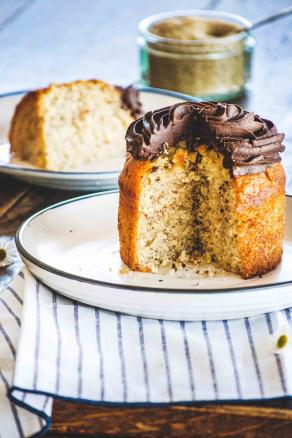 We use a local supplier that will use NZ growers whenever that fruit is in season (but there may be periods of the year that they have to go overseas – usually to California, where their season is year-round, or to Canada for products that need a cold winter, once the NZ season has finished). This occasionally affects us for Lemons. Obviously for fruit that is not grown commercially in NZ, like bananas in our banana cake, there is no option but to import them.
Grains, rice, jams, dried herbs, salt, pepper, noodles, pasta, cocoa, coffee, dates, raisins, nuts...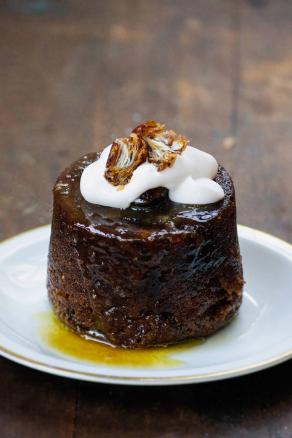 The list goes on… These are probably foods that are more likely to be in what we call our 'international section' and if you look in your cupboard, you will find them in your 'International sections' too.
Contains sulphites:
Sulphites are naturally found in some foods. However they are also used as an additive to maintain food colour, shelf-life and prevent the growth of fungi or bacteria. The list of products likely to contain sulphites are things like jams and jelly, pickled products, soy sauce, Worcester sauce, vinegar, wine, beer, dried fruits (raisins and apricots), tinned fruit and vegetables like tomato paste or puree… Check your cupboard sauces and cereals boxes - you may be surprised what you see on your nutrition/ ingredient panel. Sulphites are often part of the allergy statement on many of the ingredients we use… along with gluten, fish, nuts etc… and under NZ labelling law we then have to include these allergen statements on our own allergen statement – even if the content is miniscule. So when we say 'Contains Sulphites' you can be assured it is not because we have stood there sprinkling a few sulphites around like magic dust on top of your meal.
We make our meals just like you do at home… we boil potatoes and mash them up with butter and milk; we braise our casseroles for hours to achieve those tender chunks of beef; we roast our meats overnight; we marinate proteins; we use fresh and frozen ingredients; and we don't cut corners on flavour. We tell our chefs and kitchen staff "No bad produce has come into this kitchen… so only good food should leave!"
EAT …. NZ fresh, wholesome, ready-to-heat-and-eat meals, delivered direct to your door.